The size of your mail piece matters greatly, and even small variations in size may end up costing you big bucks down the line.  Even a half-inch difference in mail piece size may represent hundreds or thousands of dollars in postal charges. It's important, therefore, to make your mail piece selection with care, so here is some basic information about each kind of mail piece.
1. Postcards. Postcards are the least expensive way to send direct mail. The use of envelopes unfailingly increases the postage price, which keeps postcards a popular form of mail. Postcards can vary in length from 5" – 6" and in height form 3.5" – 6.125".  Their thickness can vary from .007" – .25." 
2. Letters. Although more expensive than postcards, letters are a time-honored workhorse in direct mail marketing. Letters, naturally, come in envelopes and people are likely to open an envelope provided the visuals are appealing, the offer is clear, and the call to action is strong. Letters provide a powerful opportunity for marketers to connect with the consumer.  Letters can vary in length from 5" – 11.5" and height from 3.5" – 6.125".  Their thickness can vary from .007" – .25"– the same as for a postcard.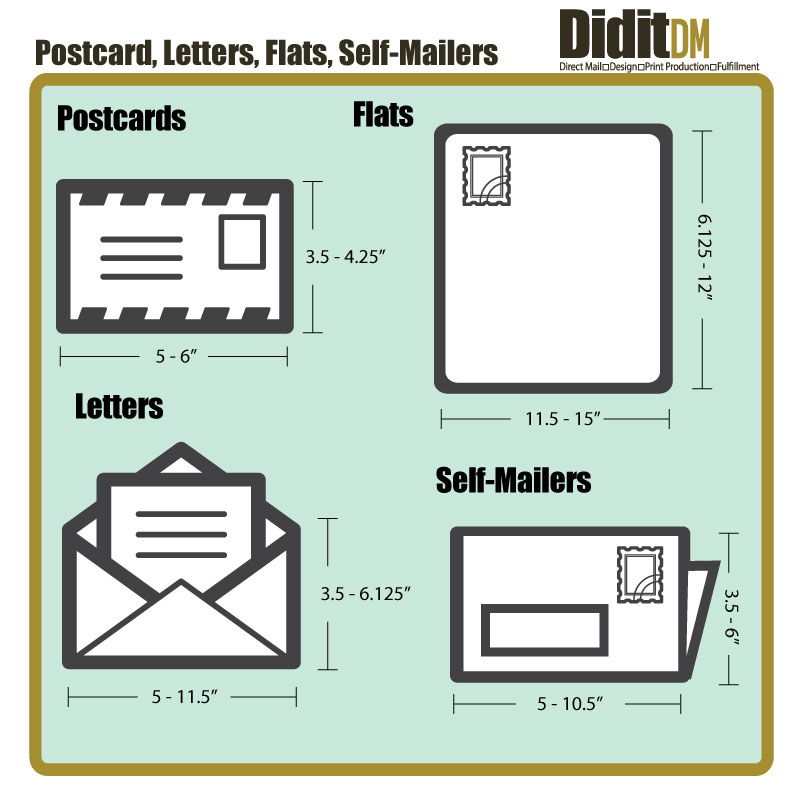 3. Flats. A flat (or nonletter) refers to a piece of mail that is a large envelope, newsletter, or magazine. There are several requirements for this type of mailing. The delivery address must be more prominent than the return address.  The delivery address should also be to the right and below the return address.  In addition, this address should be left justified – not centered.  An area at least 1/8" around the entire delivery address must be clear.  Flats must not weigh more than 13 ounces and should be rectangular in shape.  The USPS has certain important requirements in place that the flat must pass – the Flexibility Test and the Deflection Droop Test.  Clasps, strings and button closures are prohibited on the envelope and Tyvek envelopes should not be used.  There should be uniform thickness throughout the envelope with no more than a quarter-inch variance.  Flats can vary in length from 11.5" – 15" and height from 6.125" – 12".  Their thickness can vary from .25" – .75."
4. Self-Mailers. Like postcards, self-mailers do not make use of an envelope; the mailing piece itself forms the envelope. Self-mailers are designed in a way so that they fold to form the envelope. There are four types of fold: bi-fold, tri-fold, quarter-fold and oblong fold.  Self-mailers present information to consumers in a way that is highly cost-effective.  They must be between 3.5" and 6" in height and 5" – 10.5" in length.  They must weigh no more than 3 ounces.
In addition to the type-specific guidelines above, there are several regulations that all mailing formats must contain.  The address must be in a specific part of the envelope or post-card.  The Optical Character Reader (OCR) area extends from 5/6" up from the bottom of the envelope and ends 2 ¾" from the bottom of the envelope.  It leaves ½" of space in from both ends of the envelope. In general, the address OCR will look for the address in the lower 2/3 of the envelope.  This area must only contain the address of the recipient.  The print must be dark enough and clear enough to show up clearly on the envelope.
It is important to check with the direct mail design specialists at Didit DM in the early design stages.  Working with Didit DM will give you access to a free direct mail piece analysis. If you have additional questions about sending cost-effective mail pieces, we're always ready to help, so please don't hesitate to contact us.
http://www.directmail.com/resources/2.aspx
http://www.melissadata.com/enews/articles/0106b/3.htm
http://www.printingtips.com/glossary-term/t–1573/ocr-read.asp
http://pe.usps.gov/text/qsg300/Q201b.htm
http://pe.usps.com/text/dmm300/dmm300_landing.htm